Petislim plus slimming capsules lose weight and burn fat. They work to reduce food intake, which gives impressive results for weight loss in the first week, reaching the ideal weight, and maintaining a lean and consistent physique. They also help reduce stored body fat, burn it, and convert it into energy to enhance physical performance and combat fatigue.
Weight loss capsules benefits
Petislim plus slimming capsules are excellent for increasing metabolism and fat burning.
Suppress hunger and food cravings while increasing fat burning by boosting insulin, which converts food into energy.
Helps boost fat burning rates by enhancing metabolism.
Increase the energy of the body, which improves performance.
Works to regulate sugar and cholesterol in the blood.
Help the body convert food into energy instead of storing the extra calories.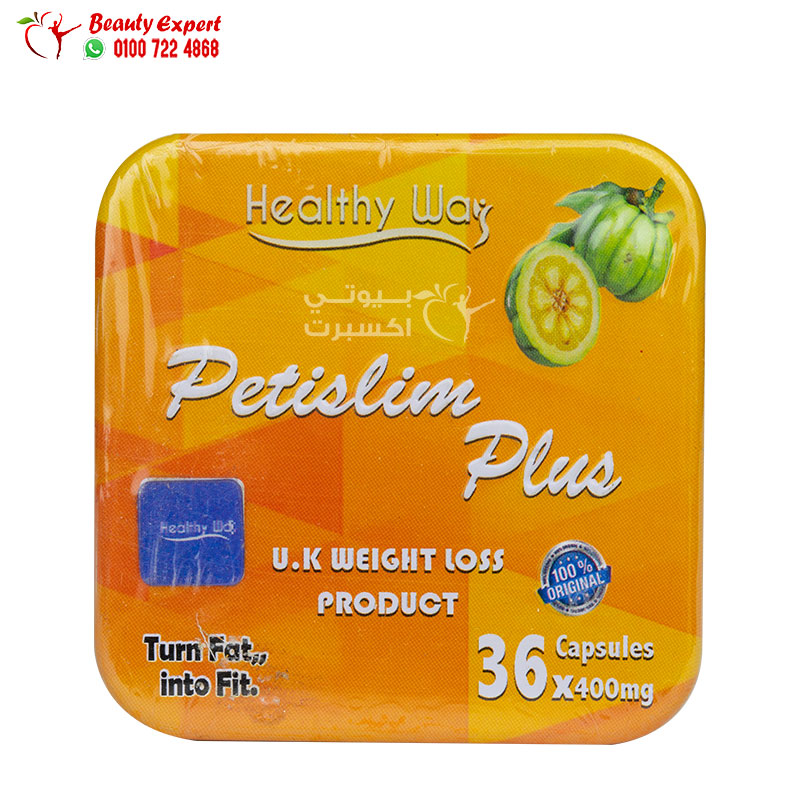 How to use supplement slimming capsules
Take 1 capsule daily 30 min before breakfast.
Use with enough water.
Don't exceed the recommended dosage.
You may also like Curvy plus capsules for body slimming
Petislim plus capsules price in Egypt 2023
At Beauty Expert, Petislim plus slimming capsules are available for purchase for just 520EGP per packet.
You may also like Xtreme Slim plus capsules 42 caps new
Petislim plus slimming capsules ingredients
A formula extracted from the rarest types of natural herbs that help you lose weight and reach the ideal body.
Pomegranate extract.
Garcinia cambogia.
Hawthorn.
Aloe vera leaf.
Guar gum extract.
konjac extract.

Petislim plus slimming capsules ingredients
Weight loss pills side effects
Petislim plus slimming capsules don't cause any side effects as long as you are a healthy adult, and don't have any allergy to any of the active ingredients.
Burning fat slimming capsule usage instructions
Best to use with health care provider.
Consult your doctor before using slimming capsules if you have any medical conditions or take any medications.
Not allowed for pregnant and nursing women.
Not allowed for kids under 18.
Avoid using fat burning capsules if you're allergic to any of the ingredients.
Keep in a cool and dry place.
Keep out of children's reach.
Petislim plus weight loss capsules reviews
One customer review "I have been using Phedra capsules for a few weeks and it has helped me to control my appetite and give me a much-needed boost of energy for the gym or just working around the house. I am excited to see how this will help me achieve my weight loss goals in the near future."
Ask for our Petislim plus slimming capsules offers at a special price and get consulted by our experts for FREE by calling the following numbers: