Ginkgo Memory booster capsules help to improve your memory and cognitive function. It's important to include vital vitamins and zinc in your diet along with ginkgo extract. Vitamin B1 and B12 play a role in maintaining energy levels and mental clarity. Pantothenic acid supports proper brain function, while vitamin B2 is crucial for a healthy nervous system. Folic acid aids in cell growth and division. Additionally, zinc, a trace mineral, is important for overall health.
Ginkgo biloba capsules benefits
Ginkgo biloba capsule is a dietary supplement that reduces the possibility of dementia.
Enhance memory.
Helps to improve and strengthen memory.
Increase focus and attention.
Enhances mental ability and improves the level of the brain.
Helps to treat depression.
Relieves symptoms of mental disorders.
Helps to improve eye health.
You may also like: Omega 3 fish oil tablets 1200mg Puritan pride heart and brain health capsules 100 capsules 1200mg
Ginkgo biloba capsules price in Egypt 2023
At Beauty Expert, Ginkgo biloba memory booster capsules are available for purchase for just 650EGP per package.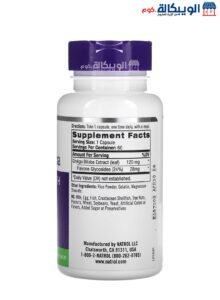 How to use Ginkgo biloba memory booster
Take one capsule daily, without chewing, with enough drink (e.g., a glass of water).
It is not advisable to take more than the prescribed daily amount.
Other zinc-containing dietary supplements should be avoided.
Dietary supplements should not be used to replace a well-balanced diet and a healthy way of life.
Before taking Ginkgo Memory + Concentration, people who are taking anticoagulants should see their doctor.
You may also like: triple omega Capsules 3 6 9 Puritan's pride for heart and brain health 60 Capsules
Memory booster usage instructions
Best to use with health care provider.
Consult your doctor before using slimming capsules if you have any medical conditions or take any medications.
Not allowed for pregnant and nursing women.
Not allowed for kids under 18.
Avoid using Ginkgo biloba capsules if you're allergic to any of the ingredients.
Keep in a cool and dry place.
Keep out of children's reach.
Ask for our Ginkgo biloba memory booster capsules offers at a special price and enjoy our best offers at Beauty Expert, by contacting us through the following numbers: