FA nutrition creatine protein powder is a dietary supplement that is improved exercise performance, increased strength and power output, enhanced muscle recovery, and increased muscle mass. It contains of vitamin B6 contributes to the normal function of the immune system and also contributes to the reduction of tiredness and fatigue.
FA nutrition Creatine powder benefits
FA nutrition creatine protein powder helps improve physical performance during exercise.
The use of monohydrates can be valuable for cognitive function and mental and physical fitness.
Creatine has been credited with beneficial effects on body shaping, improving endurance and other exercise abilities.
Vitamin B6 helps reduce fatigue, improve energy metabolism, and support the nervous system.
Vitamin B6 contributes to normal glycogen metabolism and influences the regulation of hormonal activity.
Improves energy and muscle recovery, as well as intracellular hydration resulting in a volumizing effect.
Promotes the synthesis of energy as an energy molecule and increase better protein synthesis.
Increase blood flow providing bigger muscle pumps and cell hydration.
Best creatine supplement helps gain more muscle size and helps muscle growth.
Improve the absorption of creatine and glucose into the muscle cell.
Reduce muscle loss and make you stronger overall.
Supports mass building and improves exercise adaptation.
Enhance converting fats into muscles to increase muscle size.
You may also like Dorian yates creatine monohydrate powder for muscle growth – 300 g
How to use fa core creatine dietary supplement
Mix 1 scoop of powder (5g) with 150-250 ml of water, drink ½ serving before and ½ serving after training.
You may also like One raw creatine powder for muscle gain with watermelon flavour – 300g
Creatine powder price in Egypt 2023
At Beauty Expert, Creatine monohydrate price is available for purchase for just 850EGP per packet.
Creatine protein powder ingredients
Creatine monohydrate.
Vitamin B6.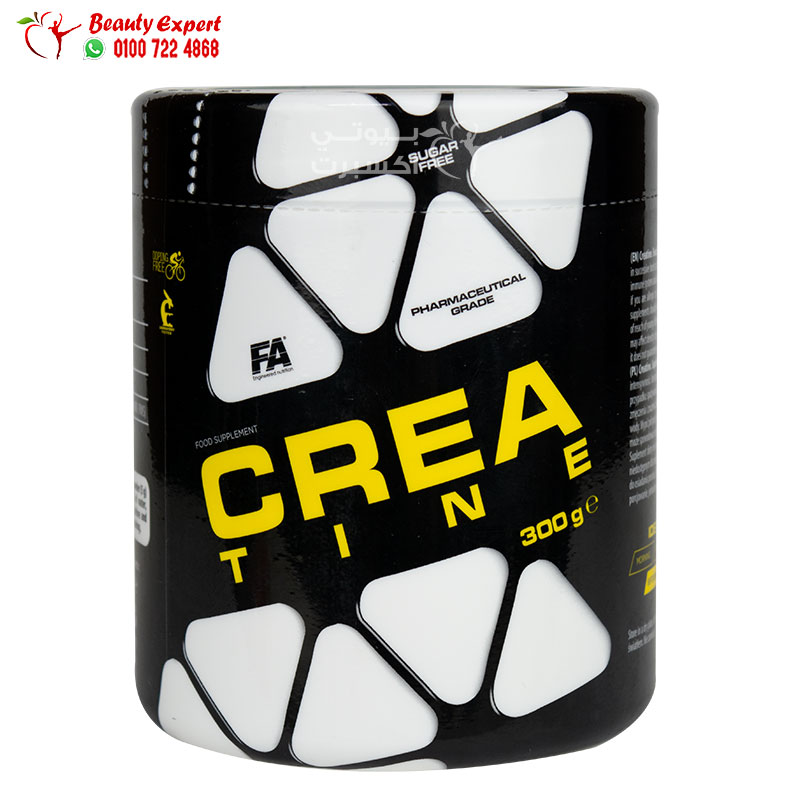 Creatine supplement side effects
It is the best creatine monohydrate powder, has no side effects as long as the daily dosage and use instructions are followed and you don't have any allergies to creatine.
Creatine powder usage instructions
Read all instructions before using creatine monohydrate powder.
Consult your physician before using this product if you are taking any medication, are under a physician's care for any medical condition.
Fa creatine monohydrate Not suitable for people under the age of 18 years.
Not for use by women that are pregnant, trying to get pregnant, or nursing.
Dietary supplements should not be consumed as a substitute for a balanced diet.
If you have any health problems or questions you should consult a physician or nutritionist.
Don't exceed more than recommend dosage.
For use dietary supplement by healthy active adults only.
Keep out of reach of children.
Store cool and dry.
FA Creatine review
One customer reviewed "Love this brand and this product. It's not too sweet and helps me feel hydrated during workouts."
Ask for our FA nutrition creatine protein powder offers at a special price and get consulted by our experts for FREE by calling the following numbers: